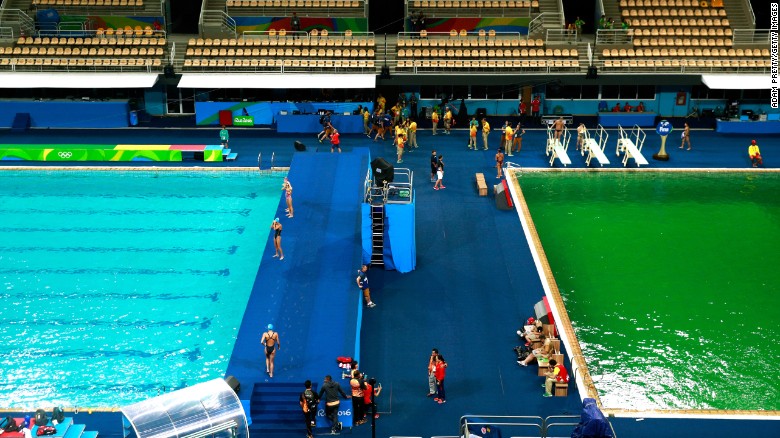 The diving pool at the Rio Olympics has come under fire after the water changed to a murky green colour for the women's 10 metre synchronised final.
Rio officials were forced to answer questions over the condition of the pool, which was drastically different to the clear blue water polo pool adjacent to the diving facility inside the Maria Lenk Aquatics Centre.
It is understood Olympic officials weren't concerned for the health of the divers despite the condition worsening throughout the afternoon.
Rio 2016 organisers sent out a statement on Tuesday night, adamant the pool is of no risk to athletes.
"To ensure a high quality field of play is mandatory to Rio 2016 committee," the statement said.
"Water tests at Maria Lenk Aquatics Centre diving pool were conducted and it was found to be no risk to athletes' health. We are investigating what are the causes of the situation but are pleased to say the competition was successfully completed."
While no more events are scheduled at the aquatic centre on day four, organisers are expecting competition to resume tomorrow.
British diving duo Tonia Couch and Lois Toulson, who missed out on a medal, insist they weren't fazed by the colour change in the event won by the Chinese.
"Well there was [something wrong] as far as we could see," Couch said.
"Maybe there's nothing wrong? Maybe it's just us? Maybe we're seeing it wrong and it is blue. When you're at the Olympics you're not thinking of the colour of the pool, you're thinking 'wow, I'm at the Olympic Games.