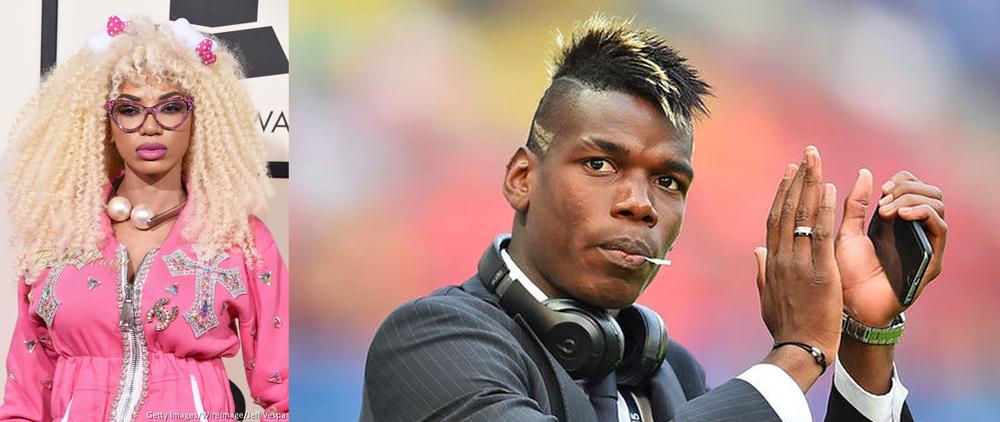 Manchester United star Paul Pogba has kept guests at a top hotel awake by "loud s*x moans" coming from his bedroom.
Businessmen and women have already cried foul over loud parties he has held at the city's five-star Lowry.
Now it emerges he has been scoring in the bedroom between 3am and 4am.
One visitor to Manchester told The Sun they complained to the Lowry staff about his s*x moans – but nothing was done so they switched hotels.
The guest, who asked not to be named, said they saw the midfielder at the hotel with African singer Dencia.
They added: "We stayed at the Lowry and saw Pogba and Dencia together.
"You can't miss Dencia – she is loud and flash.
"We were staying near them on the third floor of the hotel, so saw them coming and going from his room at the end of the hall-way.
"I settled down to sleep at 2am after getting in late.
"There was loud hip-hop music blaring from his room and lots of giggling.
"It eventually quietened down but between 3am and 4am there was unmistakable moaning and groaning to be heard.
"They didn't seem to care who heard them. It went on forever.
"It sounded like a p*rn movie. A few times we heard moans of 'Paul, babe' it was very uncomfortable.
"It was impossible not to hear because she was very loud."
But last night the mystery deepened into the lewd noises coming from the United ace's hotel room as Dencia insisted they are just pals.
Artist and celebrity manager, Raýmani Zaloumis-Steele, who represents Dencia, said: "She does not have a s*xual relationship with Paul
Pogba. They are part of the same social circle."
"During some of the period in question, Dencia was in Europe at a DJ-ing gig, and to promote her multi-million dollar skincare line, Envydia."
The Sun's source stayed at the Lowry from September 24 to 30.
The guest said: "The first day I saw Paul and Dencia together was the evening of September 24.
"Dencia wore black outfits and always had boots on.
"The first time I heard the s*x noises was between 1am and 2am the following morning.
"I could also hear them on the nights of September 27, 28 and 30 - on that occasion as late as 4am.
"If it wasn't loud music from his room it was loud moaning.
"The music was as annoying as the s*x because it was vulgar hip hop.